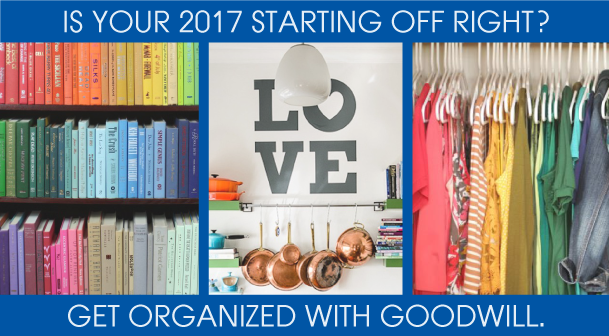 Is your 2017 starting off right? Get organized by collecting the items you no longer need and donate them at your nearest Goodwill. In doing so, you will help Goodwill change Arkansans' lives through education, training and employment.
Your donations to Goodwill have a direct, positive impact on the lives of people in your community. In the past year, Goodwill served more than 27,000 Arkansans and placed over 4,500 people into competitive employment in industries across the state. By donating to Goodwill, you can be proud that you are helping your friends and neighbors who are looking for employment.
Still not sure where to begin? Utilize these tips and get organized with Goodwill.
CLEAR YOUR CLOSET CLUTTER
If you haven't worn those jeans, jerseys or jeggings lately, chances are you won't. Seize the opportunity to clean out your closet.
TACKLE THE KITCHEN
Just 20 minutes spent going through your cabinets can make a world of difference to people in your community.
SPREAD HOLIDAY CHEER
Are you holding onto boxes of holiday decorations? Spread cheer by donating ornaments, Halloween decorations and more.
DOWNSIZE YOUR ELECTRONICS
Not sure what to do with your used laptop, flip phone, tablet and other electronics? Put your clutter to good use by donating to Goodwill today.
CLEAR YOUR OFFICE
Are you really going to use those pencils and extra erasers? No? Clear your desk and give your neighbors a fresh start.
PROVIDE ENTERTAINMENT
Is your house overflowing with unused movies and video games? Pass along the entertainment by donating to Goodwill today.
DOWNSIZE YOUR BOOKSHELF
Have your textbooks and paperbacks been collecting dust? Clear your bookshelf and donate to Goodwill today.
Donating is easy and convenient. Simply load your donations into your car or truck, drive up to any Goodwill location, pop your trunk and we will take care of the rest. You'll get a cleaner, more spacious home, a tax receipt for your donations and a sense of accomplishment in helping yourself and neighbors in your community.