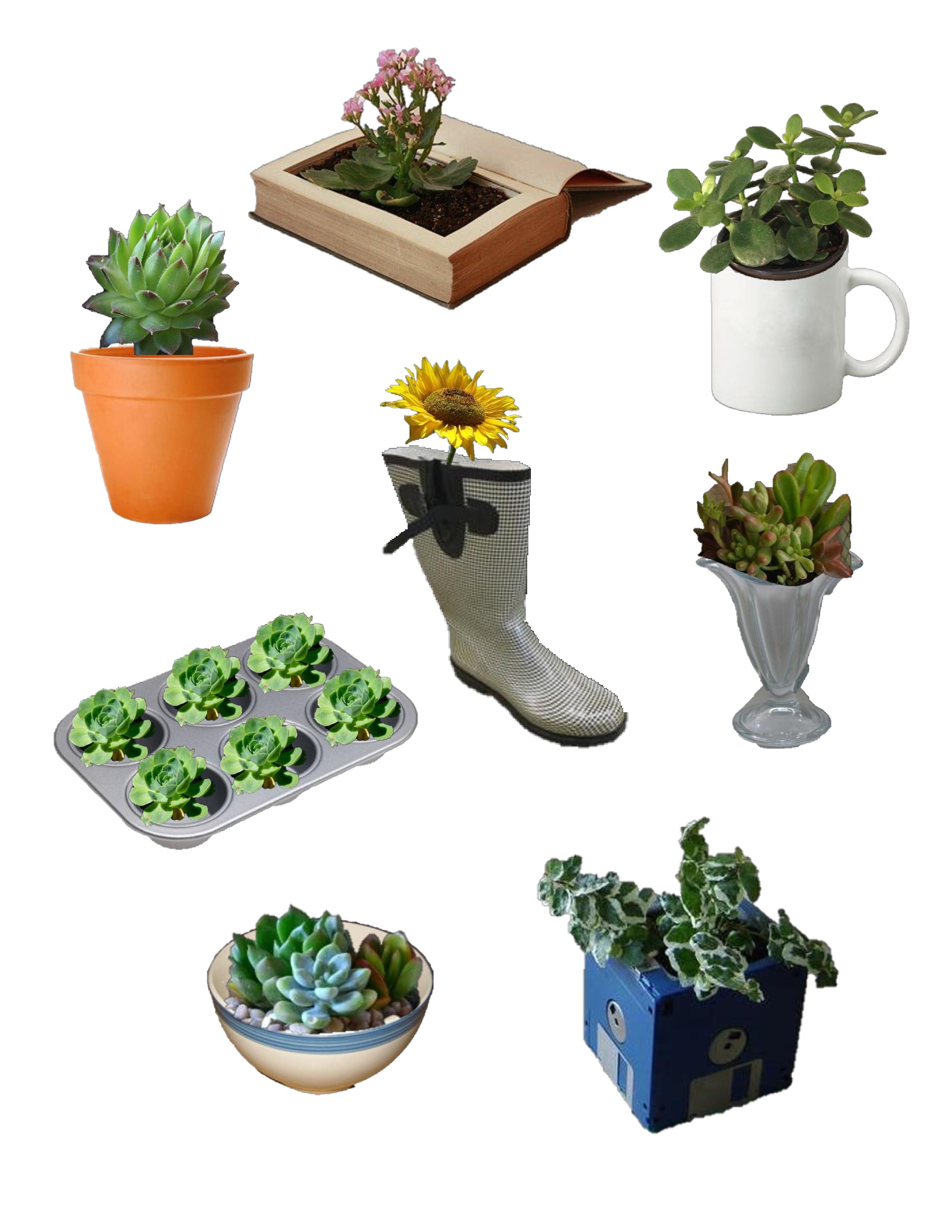 I've never had the most green of thumbs, but I've always loved the idea of having an apartment filled with beautiful plants. I have now seen Wall-E a million and one times, so I was of course inspired to think outside the box as far as the planters used to hold my little green growers. I'm moving into a new apartment in only a week, so I'm trying to knock out as many DIYs as I can in only a few days. Goodwill has a lot of great options, so I set out to get as creative as I could with things I could find at any Goodwill store in Arkansas.
1. BOOT. I have to start off with the container that inspired this post. Wall-E made a hope for his plant in a dirty brown boot, but I recommend a rain boot for this DIY. Rain boots can handle being watered and are durable enough to hold a whole lot of dirt, making them a great quirky planter. Fill the boot with dirt and rocks so your plant can stick up out the top of the boot.
2. POT. Goodwill of course has the classic pots used to house plants. You can jazz up these planters with a little paint. Paint the pot a deep red color then with a smaller brush add cream or white dots to make the pot look like a strawberry. Finish off with a glaze to make the DIY look very polished.
3. MUG. For your tiny plants, pick up a mug from Goodwill in a color that looks great in your kitchen. For tiny kitchens, this planter fits perfectly. Just fill the mug with dirt, add your plant, and water it as necessary.
4. MUFFIN TIN. Muffin tins are the perfect home for individual succulents. Put a few rocks in each cup, pick a succulent for each hole, and you've got a one of a kind tin. For a rustic look keep the muffin tins as is, but feel free to spray paint the muffin tin whatever color suits your style.
5. BOOK. This DIY takes a little more work to execute. Start off with a thick book, open it up to the first page, and use an X-acto knife to cut out a rectangle through all of the pages. You may need to glue some pages together to make the cut. Make sure to leave a one to two inch border. Then, fill your new hole with rocks and dirt and stick in as many plants as can fit. This only works on books with very thick and stable covers as a base.
6. BASKET. For this DIY you only need a basket and a cloth that won't allow dirt to seep through the holes in the basket. Just fill a basket of any size with dirt and add in your plants.
7. BOWL. If you fall in love with a bowl at Goodwill and doesn't go with a set, this DIY will give the bowl a place in your life. Show off deeper bowls with tall plants and shallow bowls with cute succulent plants.
8. TEAPOT. If you have a little teapot that is short and stout, use it to hold a plant. You can get quirky and creative in decorating a ceramic teapot or just boy one of the many interesting teapots Goodwill has for a only a few dollars. Be careful to monitor how your plants grow so none get stuck in the spout.
9. FLOPPY DISKS. I have been seeing this DIY all over the internet. Goodwill has all sorts of oldies but goodies like floppy disk and records. Pick up five floppy disks and some hot glue from a craft store. Squeeze a thin line of glue on the edge of each disk to form 4 walls. Then attach your four walls to a floppy disk base. Put your plastic planters in and trim so the floppy disks hide the plastic.
10. SUNDAE DISH. For those of you ice cream lovers out there, this DIY will be near and dear to your heart. We use vases all the time to hold flowers, so why not the vases' tiny glass friend. Sundae dishes are perfect for holding piles of ice cream, but they are equally perfect for holding dirt and beautiful small flowers.
No matter what planter you pick, try to be as creative as you can. Goodwill has anything you need from leather gardening gloves to metal tongs, so you have no excuse not to try to get your thumbs green. Send us your planter ideas by tagging us on our social media with the hashtag #GoodwillARDIY