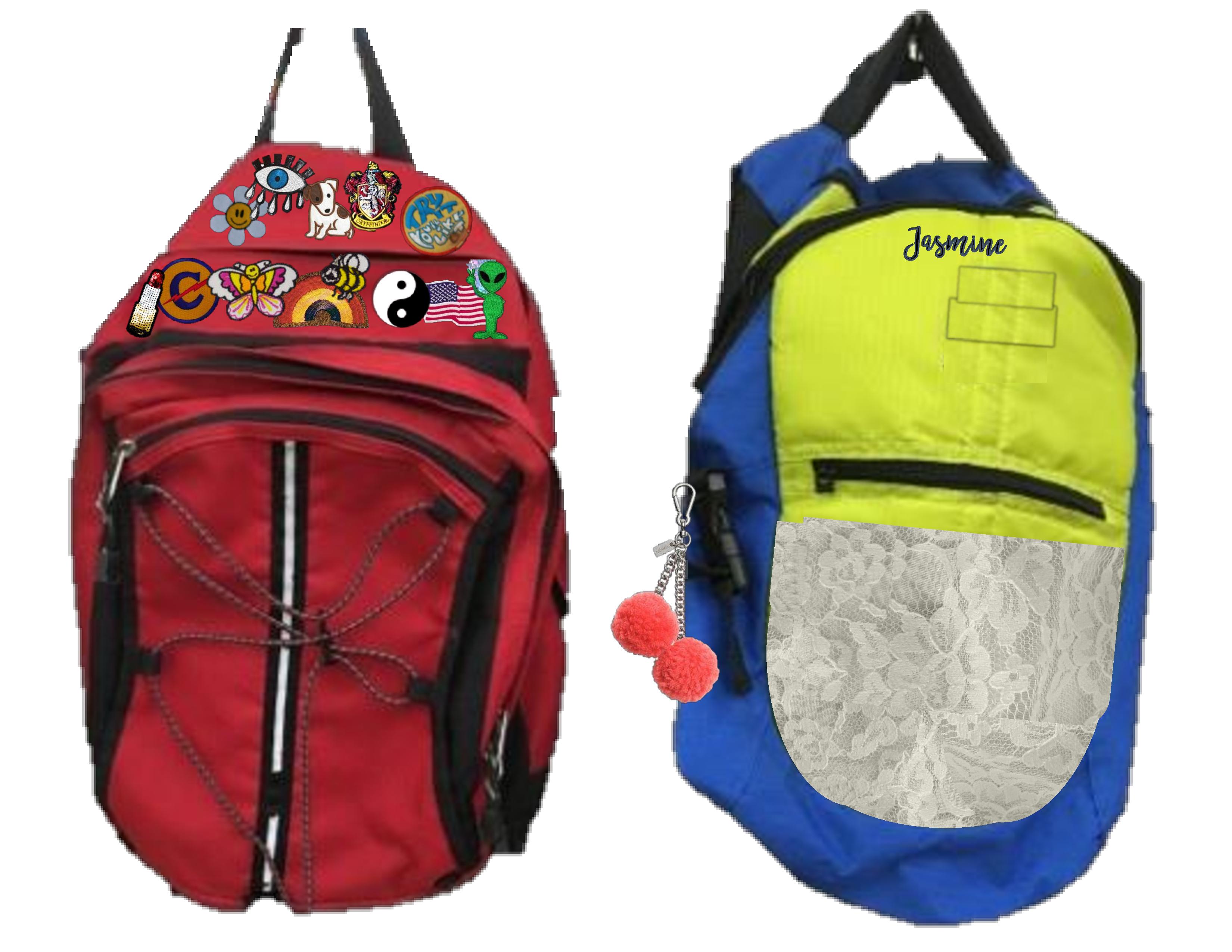 As a self-proclaimed nerd, of course I always get excited about the first day of school. Back to school season has always been an exciting time for me: picking out brand new school supplies, looking for new back to school outfits, and finding that perfect backpack that says, "I'm one grade older."
With age I've learned a few things. One, no one cares if your pack of crayons has a sharpener anymore (college kids really don't understand what fun is). Two, there's always going to people who won't like you for no reason (shake it off and kill them with kindness). And three, it may not be realistic to buy everything new each year. But that doesn't mean an older backpack can't look new again with a little sprucing up.
Of course, you can wear the same backpack every year and no one but you will probably even remember that it's the same pack. But if you do want to mix things up a little before this school year, I'm going to share with you some backpack DIYs that you can do for only a few dollars. Whenever you're at your local Arkansas Goodwill shopping for back to school outfits, be sure to check out the backpack selection as well.
If you find a very plain looking backpack, give it your own flair with a piece of fabric of your choice. Look for fun, colorful prints in the discount section of a fabric store (or pick out an inexpensive Goodwill piece in a pattern that you like). Measure out the shape of a pocket or the entire front of your backpack carefully, then cut out the correct-sized piece of fabric. Simply glue the fabric piece to the backpack, pressing down and smoothing out the fabric to avoid a crinkled look.
For a slightly edgier look, pick up some studs and gems at a craft store. Decorate the edge of the smaller pocket on your backpack with the studs in a geometric pattern. You may need pliers or hot glue to attach the studs to the backpack, so make sure you're only attaching them to one side of the backpack (don't staple your backpack shut!).
For this next DIY, you must start off with a white of very light-colored backpack. Pick up your backpack from Goodwill and some dye from Walmart. Put one color of dye in the first bucket and another color of dye in the second bucket. Let top of the backpack dip in the dye for a few seconds in the first color (depending how dark you want the color). Then dip the top of the backpack a few inches deeper into the first color, a little less than the middle line of the backpack, for half the time as your first dip. Next, flip the backpack around to dip the bottom side into the second color. Again, dip it a few inches deeper to create the ombre effect. Be careful not to blend colors all the way into the middle.
If you want a DIY that's a little less messy, try out one of the trends that is coming back: 90's patches. These patches have been seen all over jeans, jackets, and overalls, but they also look great on backpacks. To get this grunge look, find patches online or at a craft store and attach them with glue or a needle and thread to a backpack from Goodwill.
As we mentioned in a previous post, Making Vintage Look New, Goodwill is a great place to find lace. And what better way to add a beautiful, girly detail to your backpack than adding some lace? The most expensive lace fabric can actually be found on Goodwill garments. So cut up a Goodwill vintage-looking piece (if you dare), and use the lace for a DIY. Just adhere your lace with a thin layer of glue.
Whether you fall in love with a Goodwill backpack as is or give it some DIY flair, be sure to take a picture, tag us on social media, and let us know how you've found for #GoodwillB2S.