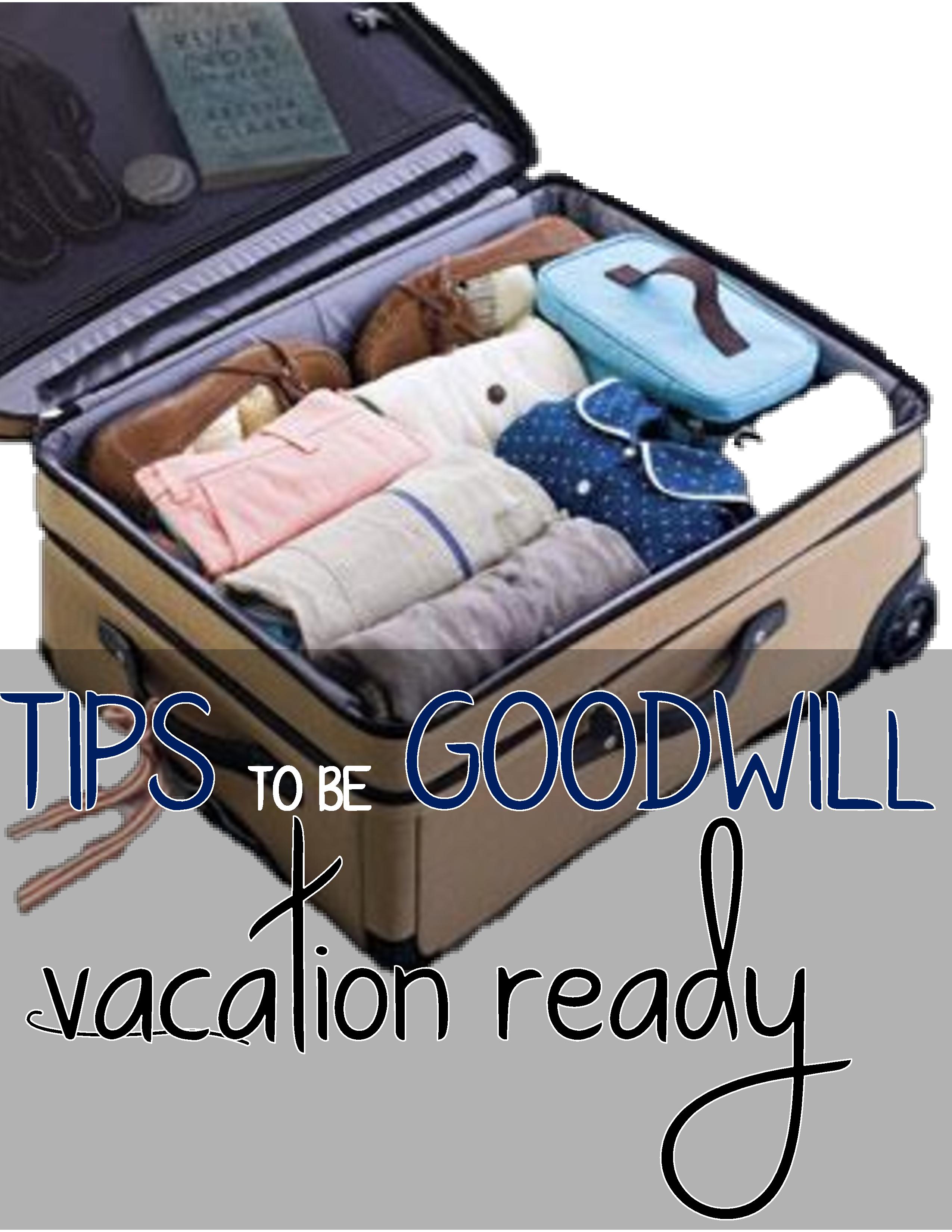 By the time you all are reading this I will have left my Arkansas desk, and I will already be in Europe. After meticulously packing my suitcase full of outfits in my typical neutral palette, I am ready to pretend I'm not a tourist. Unfortunately, any Goodwill Glitz-er knows that looking cute can easily lead to over-packing. However, to avoid packing too much on your own two-week vacation, I've got some helpful life hacks for your next big trip.
BE FASHION-PREPARED. I have this problem where I decide before every vacation, that I need some specific clothing item. This is the perfect opportunity for me to head to Goodwill and pick up the lightweight maxi dress I just have to have for a beach day or the shoes I just have to wear for a dinner out with my family. I don't actually have to have any of these things, but I'm happy I can get exactly what I "need" for only a few dollars.
ROLL YOUR CLOTHES. Instead of folding up every piece you bring, try rolling up each clothing item into a tight sushi roll. You will be able to fit more items, and you can always iron later. But seriously—hang up that white linen dress as soon as you get there. If you're anything like me, you'll probably stain it as soon as you eat so take pictures before to be safe.
STAY NEUTRAL. Pick neutral colors and patterns that mix easily. You don't need as many bottoms as you need, so let the eccentric pieces in your vacation wardrobe be your tops. Stay in a specific color palette to increase what you can mix and match. Because Goodwill clothes were previously owned, you can tell which denim is going to be sturdy and withstand the test of time. So find a pair of jeans that look just like new but don't need to be broken in.
ACCESSORIZE. Increase outfit options by making your originality come out through your accessories. I'm packing a bandana, light scarves, and a whole mess of necklaces to dress up otherwise simple and plain outfits. Goodwill offers tons of adorable accessories like sunglasses, scarves and hats for under $5.
PUT YOUR SHOES IN YOUR SHOWER CAP. I know this one sounds weird, but by putting your shoes in an extra shower cap, you're protecting them from getting all over your clean clothes. If you're bopping around from multiple hotels and needing to repack each time, this tip will protect your clothes from the dirt on the streets of wherever you're exploring.
PUT A BINDER CLIP OVER YOUR RAZOR BLADE. Another weird tip, but the binder clip will protect your razor from dulling and your hands from getting scratched up.
TIE A RIBBON TO YOUR SUITCASE. If you have a black or taupe suitcase, you know the pain of thinking you see your suitcase going around the luggage carousel then being horribly mistaken. Tie a brightly-colored ribbon or scarf around your luggage to make it stand out in the crowd.
54321 RULE. To fit all of your outfits in a carry-on suitcase, stick to the rule of 54321. Pack only 5 tops, 4 bottoms, 3 dresses, 2 shoes, and 1 bathing suit. But don't worry, there's no number system for accessories so you can go pretty wild.
PACK ONE JACKET. Find a jacket you can take day to night. Especially if its summer, you don't need to pack a ton of outerwear. I love to bring a light jean jacket just in case I'm stuck in some freezing AC.
TAKE IT WITH YOU. Wear your most bulky items on the plane so you don't have to worry about finding room for them in your suitcase. If you're packing shoes besides sandals and heels (i.e. boots or big sneakers), put them on when you're traveling.
Finally, the best tip I can give you when you're going on vacation is to live in the moment. The best part of traveling is that you get to experience things that you wouldn't normally get to experience. So the best life hack I can provide is to learn to forget everything else and just enjoy the now. Goodwill has everything you need but a passport, so get ready to fill your suitcase with the perfect vacation-ready looks.