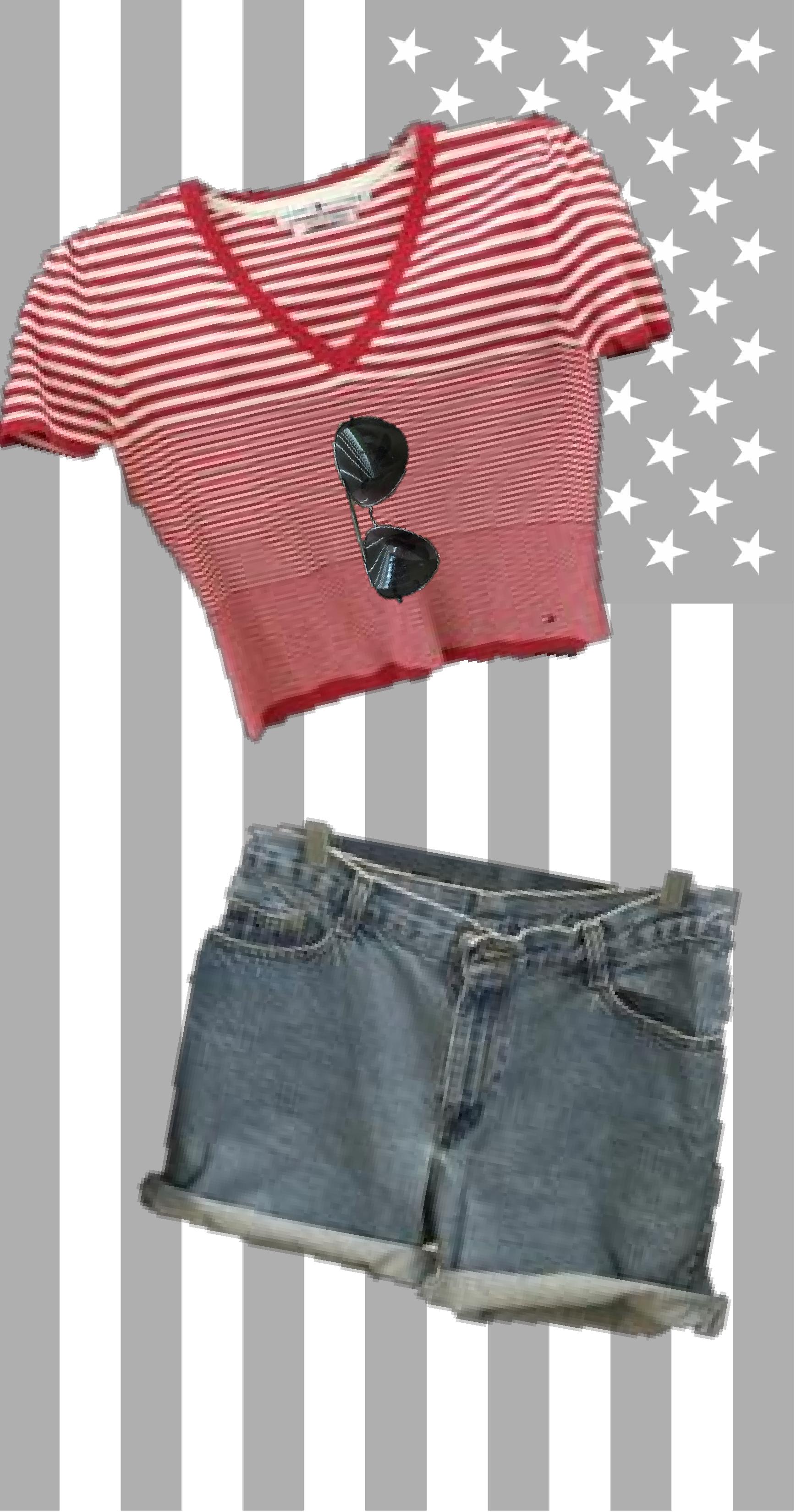 It's almost our country's birthday, and we wouldn't be American if we didn't celebrate with barbeque and big parties. But because I'm a vegetarian and won't even be in the United States this Independence Day, I need to celebrate the only way I know how: with fashion. Even those who take the pinches for St. Patty's Day still seem to don red, white, and blue when this holiday rolls along. So, to ensure that you have an adorably patriotic outfit for the upcoming holiday, I've come up with some outfit ideas that you can pick up at your Arkansas Goodwill.
Like the Pinterest-obsessed fiend I am, I have been eyeing an outfit that keeps ending up on my feed. A red jacket is draped over a black and white striped top. The look is paired with white skinny jeans with some zipper detailing, held up by a black belt. Gold accessories and a black bag and sunglasses bring together the whole look. As perfect as this look is, it can totally be replicated with pieces from Goodwill. Of course, even though the outfit will look cool, in the Arkansas heat, you'll need to stay inside as long as you can.
If you're forced to embrace the scorching summer for a BBQ, you can't go wrong with a thin and billowy chambray top. With white shorts, sunglasses, some red sandals, and a whole lot of sunscreen, you'll be able to beat the heat by looking chic.
For the ideal look for a family celebration, go Goodwill hunting for a navy piece with white polka dots. I've seen shirts and pants and skirts all in this pattern, all very reminiscent of the stars in the American flag. Similarly, a red and white striped top can mimic the stripes on the flag, and you avoid the cheesy factor of a piece that's entirely flag-printed (not that cheesy is bad!). Whether you find a top or a bottom in the polka dots or striped, throw on some navy or red heels for a classy ensemble.
If your Independence Day festivities consist of a night out on the town, stay simple but true to the red, white, and blue. Start with a dress in one of the three colors, then add a statement necklace and shoes to add the other three colors. When I was at Goodwill, I found the perfect cocktail dress in off-white and shoes in navy for a total under $10. Don't forget a red lip and a red statement necklace (already had one!), for an inexpensive look that you can wear long after the 4th.
For a totally original look, DIY your 4th of July style. For a simple way to incorporate the flag, you're going to need any item with a flag pattern and a pair of Goodwill jeans (look out for a future post on turning your old jeans into distressed boyfriend-jeans). Start by flipping your jeans inside out, then pinning striped fabric around one ankle and starred fabric around the other ankle. Once secured, sew the fabric a few inches up the calf. Turn your pants right-side out, roll up your cuffs, and show off your little hint of patriotism. For a casual, effortless look, pair with a basic white t-shirt and sneakers. Extra points for distressing throughout the denim!
When dressing for 4th of July, like any holiday, it's important to remember to stick to your own personal style. Try something a little different this holiday for less, by picking up all unique pieces at Goodwill. While it's easy to blend in with a simple American flag t-shirt and jean shorts, you'll be sure to be getting compliments all day for your innovative take on red, white, and blue.