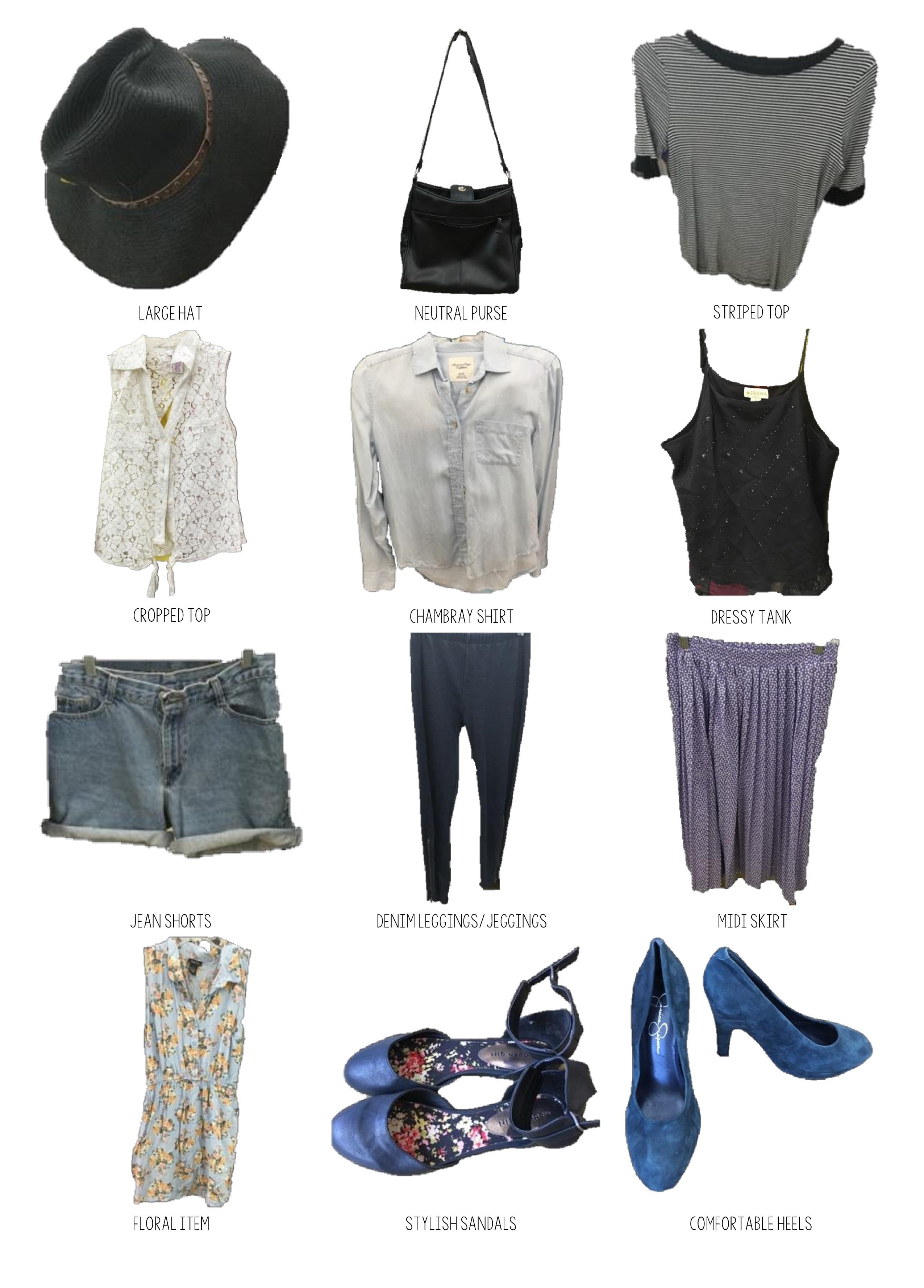 For this Fashion Friday, I have some bad news for you: you don't need most of the things in your closet. If you're anything like me, you're in total denial about your clothes-hoarding problem. You probably have a plethora of scarves you never use and shirts that just slide to the back of your closet. Unfortunately, you wake up every morning and you end up staring at the inside of your closet every morning, trying to pick out an outfit for the day. Everyone tells you how ridiculous the complaint "I have nothing to wear" is when it comes out of your mouth. But try as you might, you can't find a use for that embroidered tank you bought at a boutique three years ago.
What you really need are some style staples that allow you to make the items you have into an entire ensemble. For summer staples, head to one of the many Goodwill locations in Arkansas and start hunting for the perfect pieces that will make getting dressed in the morning a breeze.
1. LARGE HAT. Guys, I am so thrilled to be living in a time where the floppy hat is trendy. A large, stylish hat serves the dual purpose of shielding your eyes from the sun and shielding other people's eyes from your oily hair.
2. NEUTRAL PURSE. I have some more bad news for y'all. You don't need more than one purse, and you don't need a large purse. To protect your back from the weight of one large bag, just pick one go-to bag in color that will go with all of your outfits.
3. STRIPED TOP. This is the one top you will own that can go with anything during any season. Just pick a plain black and white striped top, and you can dress it up for the night or dress it down for the daytime. Stack on the layers and the accessories to add your own flair. I picked out a simple top from the Bryant Goodwill for $3.50, but even in that Goodwill I found tons more striped tops in different styles.
4. CROP TOP. Perfect for summer days and very trendy for the past few years is the crop top. Crop tops don't have to be any specific length, but they're a perfect way to show just a little bit of skin when paired with a high-waisted bottom.
5. CHAMBRAY TOP. Any soft button down is a summer essential you'll find yourself reaching for often. Chambray tops transition perfectly from the workplace to a night out. Look for a fabric that is soft and thin like the one I found at the Bryant Goodwill for $3.50.
6. MIDI SKIRT. I am 5' 2" so I always thought that the midi trend wasn't for me. This past year I found a perfect leather midi circle skirt for $20, so I had to get it. Now I'm more comfortable and can wear midi skirts to work with a button-up or going casual on the weekends with a soft t-shirt.
7. JEAN SHORTS. Everyone has at least one pair of jean shorts, but if you don't love the pair you have, you'll never actually wear them. Three years ago I bought a pair of jeans for about $5 at a thrift store, cut them up and DIYed them, and made a pair of jean shorts that I still wear almost every week. Even if you can't find your perfect shorts, you can find some jeans that are nearly perfect, add some distressing, cuff the shorts for a no-sew look, and be good to go.
8. DENIM LEGGINGS. If the weight of jeans in the summertime is a little too much, opt for a pair of denim leggings or jeggings. I found the cutest pair of denim leggings with little zippers at the ankle at Goodwill for under $5. This essential pairs well with a long tank or flowy top.
9. DRESSY TANK. Find a tank that you're in love with. Look for a top with a nice fabric and some unique detailing, and you've got the perfect piece to dress up your denim on a hot summer day. Add heels for the perfect going-out look.
10. FLORAL ITEM. Florals aren't just for spring. One of my favorite pieces to wear during the summer is a flowery dress or romper. A simple one-piece outfit is easy to throw on and comfortable, but makes you look like you put a little effort into your outfit.
11. STYLISH SANDALS. Every two to three years I buy a new pair of sandals to wear with basically all of my outfits. All you need is a pair of black, brown, or nude strappy sandals to finish off any casual summer look.
12. COMFORTABLE HEELS. I know this sounds like an oxymoron, but you CAN find heels that don't make your feet bleed. Right now, chunky heels are on trend, so look for that style or a wedge heel for extra support.
So take your list in hand to your local Goodwill, and find all the essentials you need to create an easy summer wardrobe for less. And be sure to tag us @GoodwillAR on Twitter or Instagram with the items you find that suit your individual style!