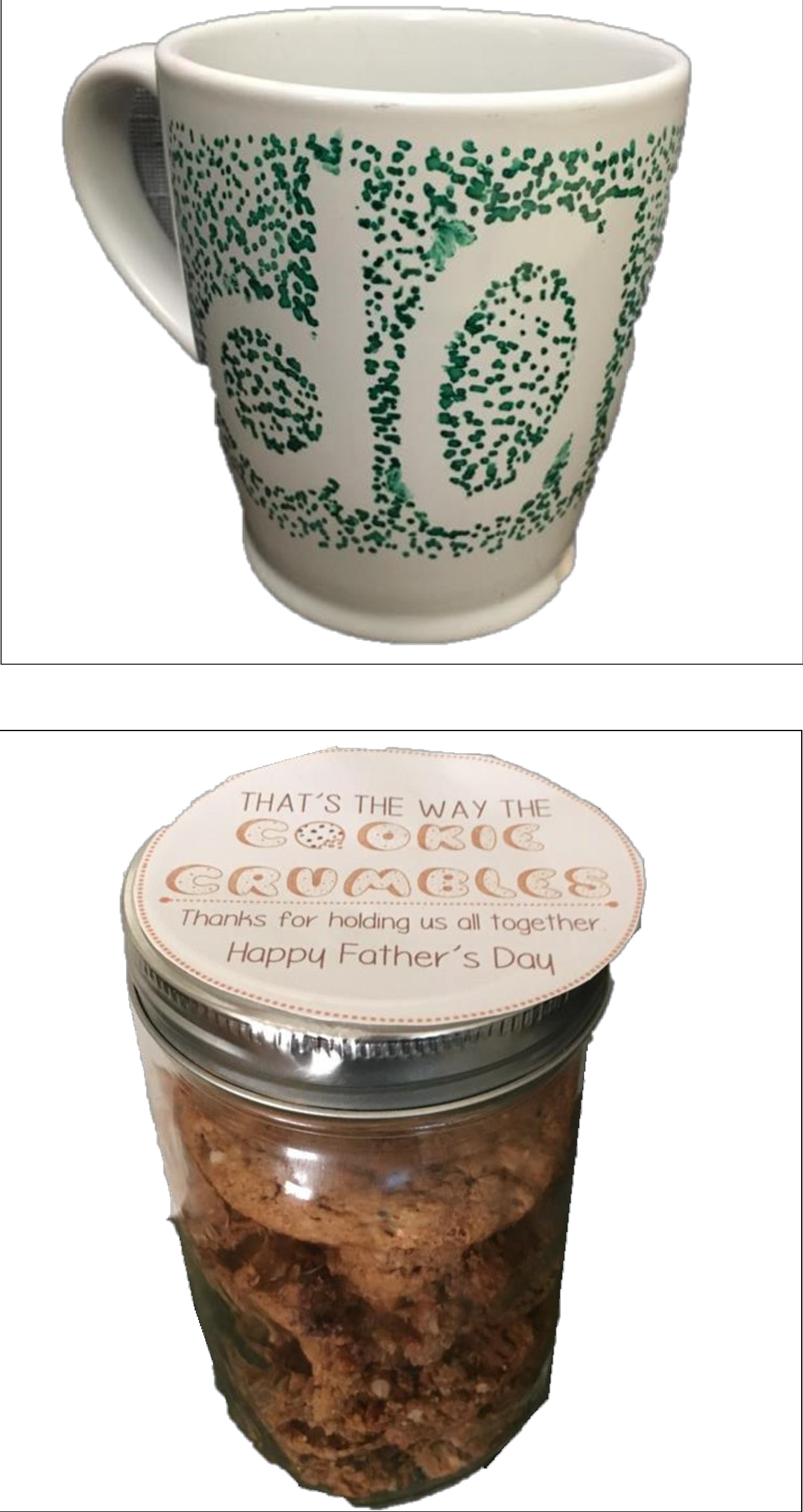 With Father's day just a few days away, those of you who are gift procrastinators are rushing to pick up the perfect thing for the man who gave you everything. But even though you're putting the gift together last minute, you surely want him to think you've been planning this surprise for months. It's time to start a last-minute DIY project that's easy to make but meaningful. Head to one of the many Goodwill locations in Arkansas and get started.
Here are 10 DIYS that will make you look like the best son or daughter in the world without breaking the bank.
1. ORIGINAL COFFEE MUG
If your dad is anything like mine, he practically bathes in coffee. So every morning when he reaches for his mug, make it your mug he goes for. You can personalize a simple coffee mug purchased at any Goodwill in Arkansas for $1-3 with some supplies you already have around your house. One option is to use colored sharpies to write or illustrate a design that suits him. When you're happy with design stick the mug in the oven then set the oven to 350°F. Let the mug heat up for 30 minutes before turning the oven off. Let the mug cool completely in the oven if you want to avoid any extra cracks. Now your design has set in!
If you want a trendier look, try marbling the mug. Pick out nail polishes in some of his favorite colors. Fill a larger disposable container with warm water. Then put a drop of your first color of polish into the center of water and let it spread out. Next, drop another color of polish into the center and wait for it to spread. Repeat until you use all of your colors. Then, take a toothpick and swirl the colors around. Next, dip your mug into the colored water for the marbled effect. You can use nail polish remover to clean up any mistakes and get any color out of the inside of the cup. Let your design set in overnight. Try to only hand wash these special mugs to keep them looking as perfect as the day you made them.
2. SCRABBLE PICTURE FRAME
So my family has a bit of a scrabble problem. We are word people, and we are competitive people. So whether it's Scrabble or Bananagrams or some app on our phones, we're always trying to put together words. If your father is similarly in love with language, this DIY is perfect.
First, you'll need to pick up a frame from Goodwill. These again are only a few dollars, and you'll have a lot of choices at your local store. You will also need to pick up a game of Scrabble. Sometimes Goodwill will have these, but you can also just use the set you have at home if you have switched entirely over to the online app.
Now it's time for the simple DIY. All you need to do is find the Scrabble tiles that spell out "Daughter" and "Dad"/"daddy" (you only need one D) or "family" and "father" (only need one F), and glue these in a perpendicular pattern onto the frame. You can get as creative as you want with this one and pick out words that are meaningful to the two of you. Make sure you have a strong hot glue or super glue, add a picture of the two of you, and this DIY will be sure to put a smile on his face.
3. COOKIE CRUMBLES JAR (downloadable)
I have never met a dad who didn't like cookies. But instead of just baking him a batch of his favorite sweet treat, try this fun DIY. I picked up set of four mason jars at Goodwill for $3.50 (perfect for tons of cheap DIYS, guys!). I picked out two more perfect cookies to put on the top of the jar, then crumbled up the rest of the batch. Y'all, the cookie crumbles are absolutely perfect to put on top of ice cream. Try this one out for sure. Click the title of this blog article to download the image I attached to my jar.
4. QUOTE MOUSEPAD
For the next easy DIY you'll just need a plain mousepad or a circular piece of corkboard (can purchase at Goodwill) and some paint. You can either hand paint some words or use stencils to create your design. My dad's favorite quote that I try to live by is "Happiness is a choice." So using some stencils, I traced the design then added in my own flair. This gift is great for dads who are constantly working on something and need a place to rest their hands.
5. PERSONALIZED COOKBOOK
Is your dad the cook of the family or does he need to learn to make something besides eggs and pancakes like mine? Either way, a cookbook from Goodwill is the perfect gift for dads. Although you can gift your dad the book alone, a personalized version is an even more unique way to say "Happy Father's Day." Embellish your book a little by adding a large envelope to hold extra recipes, notes, and cooking tips (you can even throw some in yourself to get him started). For an easy bookmark, glue a long ribbon to the inside cover of the book so he can mark the meal of the day. Add a gems or stickers to personalize the front, and your DIY cookbook is ready to go!
6. RECORD BOOK ENDS
Last time I went to Goodwill, I did a little creeping around the record section. I was surprised and delighted to find some of the favorites I grew up with. My dad and I are huge Billy Joel and Elton John fans, so I'd love to do this DIY with some of their vinyls. For this DIY, all you need to do is pick out some records of artists your own father enjoys.
7. BUTTON DOWN COFFEE COZY
For the dad that is too fancy to use a normal coffee cozy, dress his drink up with this DIY. Goodwill sells button down shirts for only $3.50, so pick out a button down in a nice pattern. All you have to do is cut about half the sleeve off, fold it over to be about the size of a mug, then slide your new, fancy sleeve onto a cup.
8. COUPON JAR
This one is an oldie but goodie. Simply buy a large mason jar from Goodwill under $2 and fill it with little coupon slips of your choosing. Include chores like "Good for one car wash" as well as bonding time like "Good for one dinner date on the weekend." If you're on a budget, this gift is an inexpensive way to show you really care.
9. POCKET TIE
Goodwill has a whole lot of ties, and instead of just gifting your dad one of the amazing ties (which you could also do—only a few dollars!) you can try out this DIY. Simply use an extra piece of fabric to attach a pocket to the inside flap of the tie. Because the ties are so inexpensive, you don't have to worry about ruining an expensive tie if you're not the best sewer in the world. However, if done properly the pocket tie is a perfect gift for dads who can never find their keys.
10. THUMBPRINT HEART COASTERS
The next DIY is perfect for younger siblings or even a gift from your kids to their dad. You can pick up a set of some plain coasters from Goodwill for only a few dollars. Then, the DIY magic comes into play. Use non-toxic paint and have your kids stamp their thumbs in the paint then onto the coasters to create a heart design. Even if the shape of the heart isn't perfect, the father in your life will appreciate the adorable gesture and will rest whatever drink he's holding on these cute coasters.
If you try out any of these DIYs, be sure to let us know by tagging us on our social media using the hashtag #GoodwillARDIY.